Dasinfomedia will design, develop, test, and expand Android applications to meet your needs. We are providing Android Native and Android Web Apps development services or you can Hire Android application developers. Our team of 15+ Android developers works tirelessly to design the greatest custom native and hybrid apps for Android phones, tablets, and wearables.
Why choose Dasinfomedia for your Android App Development project?
Good understanding of App Development Idea
Excellent analysis and App Requirements Research
Strong technological capabilities to provide a complete mobility solution
Quick & Flexible Access To Unique & Supplemental IT Skills
Throughout the project, constant availability and regular reporting are required
100% confidentiality is guaranteed
Exceptional Developers
Easy to use application development tools and APIs
Cost-efficient apps development for Android
Our Portfolio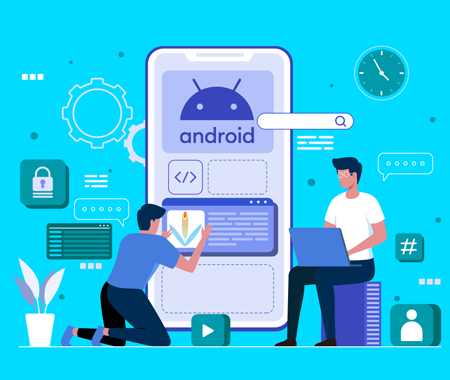 Our Android Application implementation Process
We provide the highest level of customer service, we follow a well-defined process. It ensures that we don't overlook any details while developing scalable and dynamic mobile and web application solutions that meet or surpass our clients' expectations.
Check the Requirements
We sit down with our customers and sketch out a non-technical structure of the android application, gathering the most important aspects of the application. Preparation is key to avoiding stumbling blocks. As the last step, we review competing applications, as well as the client's company's goals, objectives, mission statement, and target audience to produce.
Selection of Wireframe & Design
As soon as we have a clear understanding of your needs and any questions you may have, we begin our work by creating a wireframe for your app. Our UI/UX app design & development team creates an incredible design that pleases your target customers.
Coding and Layout
It's time for our programmers to get to work and create a layout for each. Your app begins to take shape at this point. The latest developments are communicated to you and your feedback is taken into consideration.
Testing and Debugging
Applications are rigorously tested to ensure that every Digital product satisfies our quality standards. We look for bugs and fix them. The finished product is sent to you for your approval after we are satisfied with it.
Deployment of the App
It's time for the app to be Upon your approval, we'll deploy the app on Google Play. Be at ease! We also offer maintenance and support services to assist you with any issues that may arise after the initial deployment.

Our Experience & Expertise in Android App Development
Android Portfolio
35+ Android app projects have been successfully delivered to clients covering almost all industries.
Bug-free Apps
Our Developers develop clean and optimized code. We always develop a Bug-free app and don't leave corrupted impressions for the clients.
Latest Development Tools
Dasinfomedia 's teams have been able to apply established approaches as a result of their experience working with the latest Android technology.
Build More Rapidly
Dasinfomedia 's Android developers think that providing speedier service requires no delays, so they plan ahead of time to launch on time.
Affordable Price
You may be certain of the finest pricing in the industry with Dasinfomedia, without sacrificing quality in any way.
Dedicated Programmers
For each type of project, Dasinfomedia assigns a professional developer and project manager.

What kind of App we can build for you
Ecommerce mobile application
WhatsApp like Social networking app
Photo - Video sharing apps like Instagram
Banking Apps & On-demand Apps
Healthcare Apps & Educational Apps
Implementation of In-App Purchase, GPS - Location Tracking
QR code and Push Notification
Real Estate & Entertainment Apps
Indoscan like Document & PDF Scanning App