In our previous blogs about laravel, we have discussed Why Laravel web development is a good choice for your Business Software. In 2021 we are going to list out some impressive websites and apps can be developed using the laravel platform. We have tried to include a little bit of description of each software / web applications. According to Google trends, laravel has secured the most Powerful PHP framework spot.
Many of you might be wondering why you should go for a school management system, Hospital management system, CRM, ERP, and online marketplace using Laravel, and what makes it so useful? Well, the reason for such widened acceptance and reliability towards Laravel by emerging entrepreneurs is the fact that Laravel has powerful features to expedite development.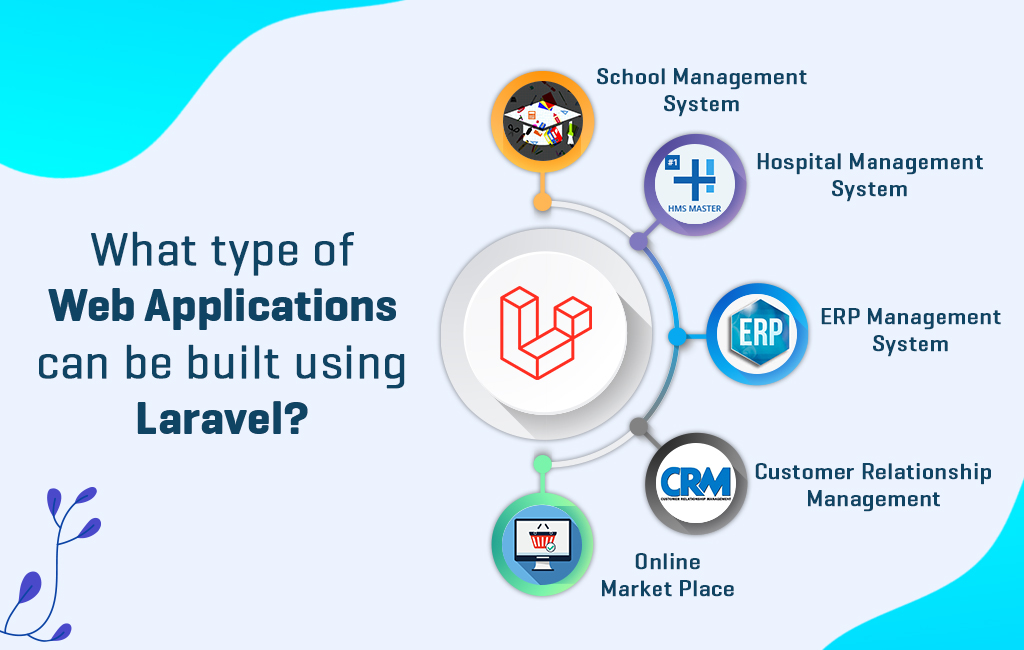 Here is a list of web based software that can be build using laravel:
School Management System Using Laravel:
The Benefits of Laravel Development Services for New Businesses are infinite. Below I am sharing a few best features of successfully building a school management system using Laravel.
Student Registration, Display Full Student List with Name & Email Id.
Display Teacher List & Exam List.
Access Daily Attendance & Class Schedule.
Access Payment History & Profile.
Message & Notice Board Facilities Available.
Complete Subject list with Download Syllabus.
Display class Timetable with Time & Subject.
Students can submit the Home Work.
Hostel List for All student Bed & Room List Availability.
Parents are well informed with SMS – Email Notification
Teachers are Empowered with Syllabus, Routine & Exam.
Reports and gauge teacher and student performance.
Best Control all school activities online easy for teachers & Admin.
Hospital management system using Laravel:
Hospital Management system is for managing the hospital function and events. It has different types of the module such as doctor list and managing patient appointment.
Modules and their features:
A Doctor can manage the patient's Date.
Write a prescription to the patient.
A doctor's Dashboard view with the appointment calendar
Single screen to get patient treatment detail.
Admin has full rights in the system.
Admin can create a Doctor, Nurse, patient, and other users.
Attractive dashboards for Doctor, Patient, Nurse and more
Manage complete hospital operations
Patients can book the appointment online.
Patients and doctors can communicate through call and chatting options.
Allow patients to find a doctor/clinic in their provision.
Permit the patients to make payment online via different modes of payment.
Patients can keep and upgrade their medical information like Prescriptions, Medications, Allergies, Surgeries, etc.
ERP management system using Laravel:
ERP software / web applications are important to companies to manage and increase efficiency of their business. Using ERP organizations can digitalize complete operation, including product planning, development, manufacturing processes, financials, sales, Human Resources, and more.
Manage Project, task & multiple users.
Generate management Reports that helps in decision making.
Inventory Module can be used to track the stock items.
HR module helps to manage employee information, track employee records, designations attendance tracking etc.
Finance & account module helps to track Balance sheets, account ledgers, budgeting, bank statements, payment receipts, tax management, etc.
Easy to manage Customer Details like customer communication history, call meeting, contract duration, etc.
Production module help to track planning machine scheduling, bill of material preparation, etc.
SCM involves demand & supply management, sales returns & replacing process, shipping & transportation.
Purchase module helps to the supplier /vendor all details, & updating stocks & various reports.
Customer Relationship Management (CRM) Using Laravel:
Laravel based CRM & Project Management System is a complete dynamic with multi-login software that manages customer leads, opportunity, accounts, contact, task, case, product, quote, sales, invoice, tax, newsletter, clients, and employee.
User-Friendly Interface & General Customization Available
Customized user roles with Access Rights management user management.
Setup Subscription-based recurring Invoice CRM-Dashboard.
Manage and invoice projects with powerful Project Management.
Manage all leads in one place with associated notes, tasks, and files.
Powerful support ticket system that increases Customer Retention Rate.
Build professional, great looking quotes and invoices and win clients.
Task-based billing and time tracking for employees & Online payment options.
Track time spent on tasks and bill your customers.
Use the Contracts feature to lock in current and future sales.
Online market place using Laravel:
Online marketplace is a website or app that connects buyers with sellers and serves as a mediator between customers and companies or individuals looking to sell their products or services in the B2B or B2C sectors.
Online marketplace for Vendor to sell products and customers to purchase products.
Vendor/seller registration and approval
Separate Seller interface to upload products, stock, pictures and set price
Vendor Account, Settings, Details, and Dashboard.
Vendor vacation mode.
Vendor and customer can easily track the orders.
Customers can view the shop name and all the products from particular vendor
Innovative site landing page, category page with filters and sorting options
Product details page with product gallery, description, specification and rating /review
Coupon codes for promotions.
Price comparison in Product List.
Print shipping Labels and save.
Shopping cart, checkout & payment gateway support
Customer panel for order tracking, refunds and returns
If you are looking for any kind of Larvel development services or are looking to Hire Dedicated Laravel Developers, do contact us at sales@dasinfomedia.com