For the past decade, we have seen the abrupt change in usage of devices from heavy enormous computers to desktops and laptops to the ultraportable palmtops and other mobile devices. In 2007, Apple made the first iPhone, and the subsequent release of the App Store in 2008 build the monopoly and its leadership position in the digital market. Soon after, Google Play, Android's app store was also launched. This dramatic rise of smartphone usage is exerted forced on every institute to change its business processes to reach more prospects and expand the number of customers via mobile apps. Today, a question that often comes in mind that for App Development whether one should build a native app or a hybrid app.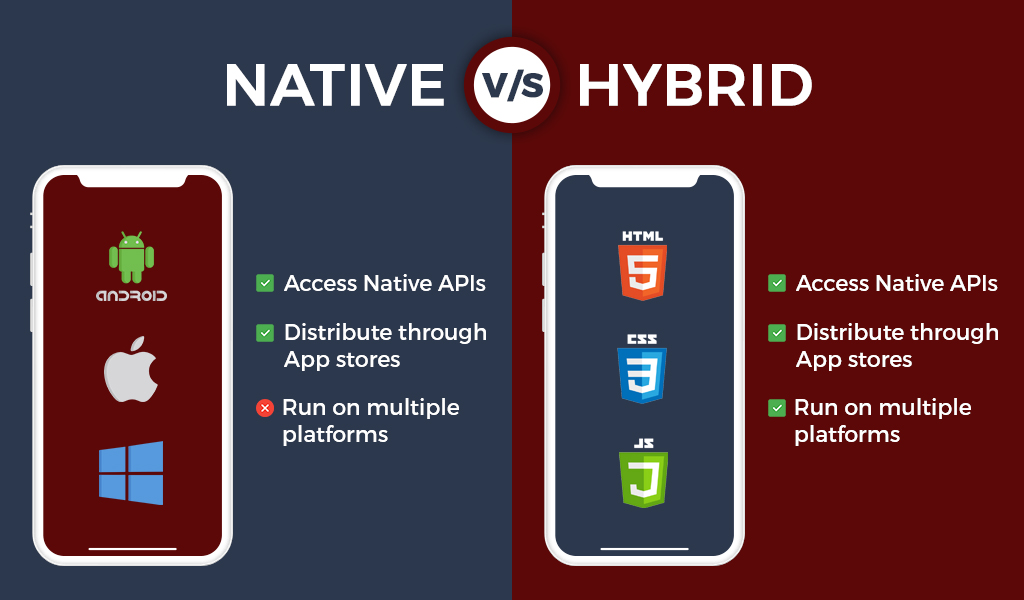 What is Native Mobile App Development?
These applications that are developed primarily for the mobile platforms may it be iOS or Android, are called NATIVE APPS. If you are willing to develop a Native app for both, then the development is carried out individually as the codebase for the development is entirely different for example, Swift and Objective-C for iOS and Java for Android. Local applications are exceptionally successful, and responsive, however, it is an expensive and time consuming to build and maintain.
What is Hybrid Mobile App Development?
Hybrid Applications are platform-independent applications i.e. they can be run on any Operating System like WINDOWS, Linux, iOS, etc. Basically, the coding of the application takes place in HTML5, CSS3, and Javascript. Thereafter, the integration of the application with a native Android, iOS, and various other platforms, using suitable wrapper technologies takes place. Hybrid applications are not local but rather they perform like a local application. Due to single code based it costs in terms of time and money.
Native apps work good if you need applications that require full functionality, speed, and security. Apps with advanced features like location tracking, gaming and AR/VR will work better if developed under the Native approach. However, if you want an app where you need to update your content frequently, such as ecommerce, directory or blogging, the hybrid version is better. Hybrid apps are usually the way to go for if you want to get app developed faster and within budget. There are multiple platforms to build hybrid apps like Phonegap, Ionic, Xamarin, Flutter and react native (Facebook).
Why React Native is preferred platform for Hybrid App Development:
React Native is open – source mobile applications framework which is used to establish applications for android, IOS, WEB, and universal windows platform by allowing developers and users to use React through Native platform potentialities. Since Facebook owns and operates the react native code based there is a clear roadmap of solid support and longevity.
One can grow their business with this type of advanced technology applications. Lee us show you how React Native mobile application can help you to expand your business.
Open-source
Code once and deploy for two major ecosystems – Android and IPhone
Predictable user interface
Help to reduce coding time
Community-driven
Maximum reusable codes
Easy to learn and developer
Reliable and Economical
Strong performance
Easy accessibility
Third party plugin support
Modular architecture
Handy solution and libraries
low maintenance cost
Fast Deployment
A mobile application is the best way to grow your business in todays' highly competitive market. You need to hire the best react native development company India which not only fulfills your business requirement but also adds value in your project with expert advice on development and go to market strategy.
Why Choose Dasinfomedia
100% guaranteed satisfaction on each project
Free post-delivery 24*7 consistent support
On-time delivery with high-quality end products
Highly experienced team of developers
Quality services at affordable prices
In-depth Knowledge about React native.
Testing & QA Measures for superior performance
At Dasinfomedia we offer different business engagement models like react native project cost-based model, Dedicated Team and Hourly based offshore react-native development in India.
If you want to increase your Software team capacity or just need expert advice from a dedicated react native team, Contact us now.